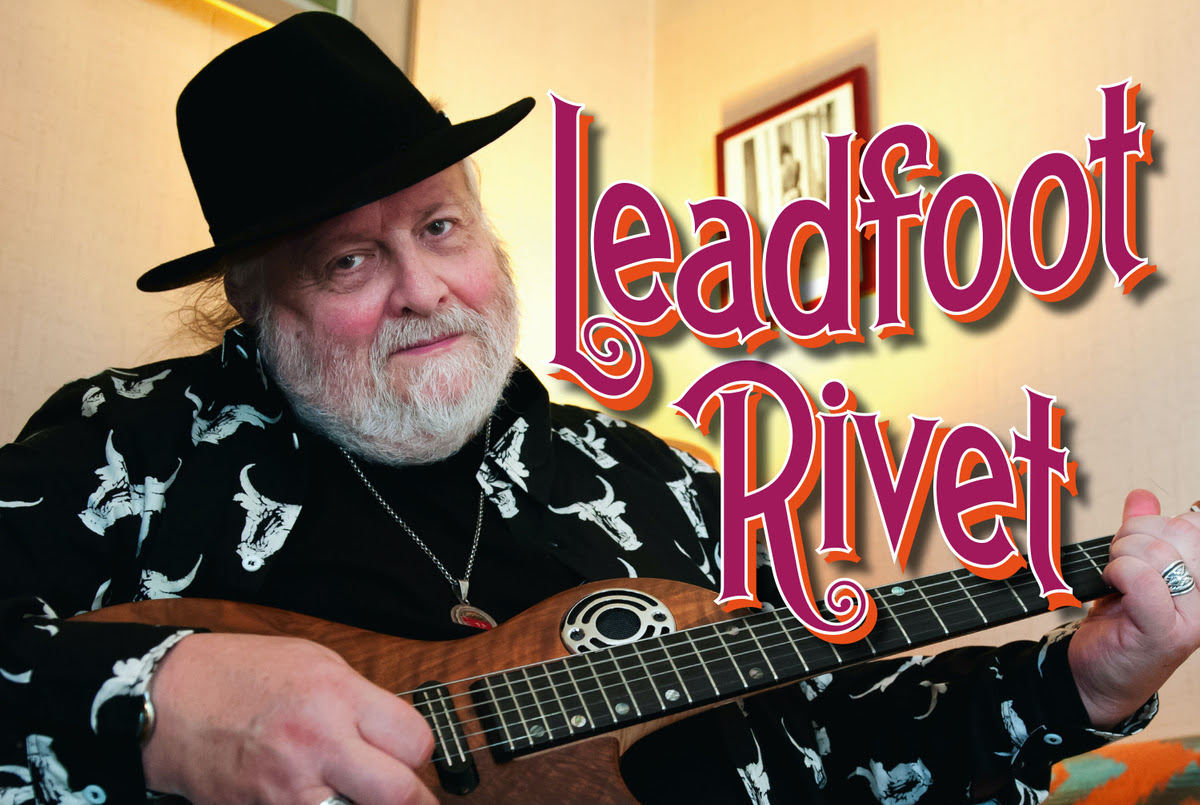 Leadfoot Rivet – New album
Emblematic figure of the european roots and blues music scene, Alain (later Leadfoot) RIVET hit the bandstand for the first time in the summer of 1962 singing Chuck Berry's song « Nadine ».
First bitten by the bug of rock'n'roll and rhythm and blues in 1958 discovering Ray Charles then Buddy Holly, Elvis, Jerry Lee Lewis and british skiffle star Lonnie Donegan.
At the end of 1964 he gets a slot as co-lead singer in a band strangely named the Turnips, one of the top groups performing at the legendary parisian rock hang out LE GOLF DROUOT equivalent to the MARQUEE Club in London.
The repertoire is influenced by those of the British Invasion groups notably versions of Muddy Waters, Howlin'Wolf, Bo Diddley, Chuck Berry and Jimmy Reed songs.
In 1966 he becomes the front man of one of the very first soul bands in the land, the Murators with horns and Hammond organ which tours extensively France, Belgium, Switzerland with a long stint in Italy where soul music rules. His mentors are Otis Redding, Wilson Pickett, Joe Tex, Solomon Burke, James Carr, Sam & Dave.
First recordings in 1967 for Fontana records then Vogue.
1970 finds him a member of the musical HAIR in Brussels also producing and participating in an album for the american soul vocal group BAD CHILD for Decca.
In 1975 he inks a deal with RCA records for one album and several singles. Tours mostly backed up by a 3 pieces band blending styles blues, folk, soul and country music. That leads to the founding of the band ROCKIN' CHAIR in 1979 with guitarist Patrick Verbeke and steel player Claude Langlois later joined by Pat Boudot-Lamot on guitar.
They score a hit in 1981 with an excerpt from their first album but fail to confirm with the second as the label Milan / Ovation folds down.
1985 sees the launching of the soon to become legendary roots label DIXIEFROG records with Philippe Langlois and 1986 the release of « Lunatik combo « , ambitious project blending blues with synths and drum machines to support humorous, dark and meaningful lyrics that will become his trademark.
Due to personal problems he starts in 1991 a blues booking business working with a cohort of mostly american artists such as Albert King, Bo Diddley, Junior Wells, Wilson Pickett, Johnny Copeland, Jimmy Rogers, Amos Garrett, Tommy Castro, Roy Rogers, Smokin' Joe Kubek, Jimmy Thackery, Tab Benoît, Larry Garner, Big Bill Morganfield, Tom Principato, Lou Ann Barton, Sue Foley, Joanna Connor, Debbie Davies, Gatemouth Brown, John Hammond Jr, Kevin Coyne, Joe Guitar Hughes, Johnny Adams, Duke Robillard, Anson Funderburgh & Sam Myers, Mighty Sam Mc Clain, Howard Tate and so many more !!
Back to the studios in 1998 for his first outing under the LEADFOOT RIVET moniker with both versions the french « St Blues » and the english « Bluesmaniac » including a handful of prestigious guests.
Since then Leadfoot RIVET has released 6 solo albums, two in collaboration with Neal Black, Nico Wayne Toussaint and Pat Boudot-Lamot (Blues Conspiracy / Drinkhouse Preachers) and has guested on albums by Neal Black, Larry Garner, Fred Chapellier and the Lee Onell blues gang.
Finally such a long musical life is well worth this 32 songs compilation on a rejuvenated DIXIEFROG aptly titled « With a lotta help from my friends « spanning over the last 40 years with most of the artists he has recorded with.
In which you can find:
two solo acoustic cuts from 1978 with Patrick Verbeke on guitar
a selection from the two albums recorded with Rockin ' Chair with Claude Langlois (steel guitar) JJ Milteau (harp) Willie Anderson (guitarist for Diana Ross / Glen Campbell / V. Sanson etc) pianist Jean Yves d'Angelo et P. Boudot-Lamot.
a dark piece enhenced by the ethereal playing of Jean Pierre Alarcen, guitarist extraordinaire, sideman with Touré Kunda or Geoffrey Oryema amongst others
plus Larry Garner (who gave him his nickname !) / Amos Garrett / Tommy Castro / Benoît Blue Boy / Anson Funderburgh one of the kings of Texas blues guitar / Joanna Connor John Mooney and Roy Rogers slide guitar magicians / Popa Chubby / his friends Neal Black and Fred Chapellier top guitar slingers / Billy Price legendary soul singer and original member of Roy Buchanan's bands / Tom Principato guitar virtuoso longtime partner of Danny Gatton / a young Leon Newars already an accomplished piano player / JP Avellaneda, Robben Ford & Tommy Tedesco alumnus and leader of the band MERCY / supreme organ player and singer Slim Batteux (Percy Sledge / Billy Paul / Ray Charles) or Nico Wayne Toussaint transatlantic harp hero.