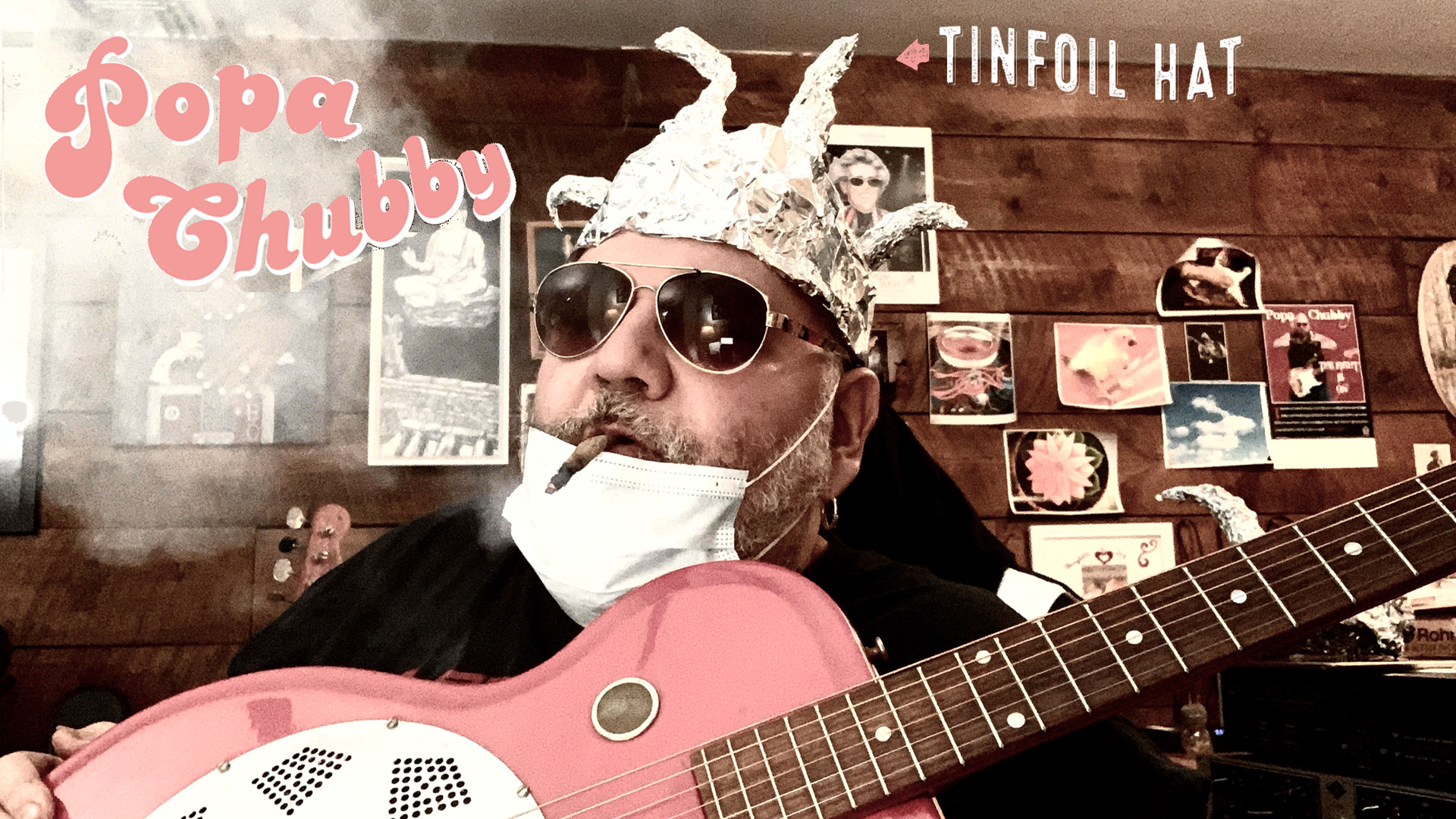 Popa Chubby – Can I Call You My Friends ?
Be assured that even dawning on sixty and with a career spanning more than 30 years, Popa Chubby continues to fight against the injustices of this world ! And the least we can say about 2020 and the COVID-19 pandemic is that it offered him the "magnificent" inspiration that fed into the creation of his new album "Tinfoil Hat"!
As he writes himself, this record's creation was self-evident from the beginning of the first lockdown in March. Back at his base in the Hudson Valley and following his last show played in Florida, our man immediately wanted to send a message of empathy and support to his fans, and that's how the song "Can I Call You My Friends?" was conceived. The reaction was so sudden, warm, and intense that he found there was enough material for continuing this "dialogue" by composing other songs that today form the framework for "Tinfoil Hat."
The whole thing was entirely "homemade," recorded and played by Popa Chubby with the extra Guts and Soul that great causes often bring to life. "Tinfoil Hat" and the 11 songs that make it up were born from a mixture of love, despair, fear, frustration, pain, joy, sorrow, resolution and the leap into the great unknown imposed by the coronavirus that has been with all of us all since last March. 
The Trump administration's chaotic and reckless management of the crisis provided Popa Chubby with the inspiration for uncompromising lyrics. Like those of the title song (supported by, to say the least, an explicit clip) or themes such as "You Ain't Said Shit," "No Justice, No Peace," or "Another Day In Hell." Without forgetting to pass on messages of hope ("Someday Soon, Change Is Gonna Come") or even for good behavior in the face of the virus with "Baby Put On Your Mask."
In the album notes, he writes, "Like all of you, this pandemic has pushed me to the very edge of my humanity. But the music, the sweet music, has put me back on the right path once again. So I offer this work with humility and the deep devotion I have for you! ». That says it all!